Amari Skincare is professionally formulated with quality antioxidant ingredients (vitamins and acids) that help protect your skin and at the same time reverse the existing sun damage and fight the signs of aging.
Due to their scientifically advanced formula and quality antioxidant ingredients, their serum has helped people get younger looking and brighter skin.
Their newest product, Amari Vitamin C Renewing Serum, will do wonders for your skin. It has the most powerful antioxidant protection that your skin can possibly get. It includes the following antioxidant combination: Vitamin C, B3, E, Hyaluronic Acid and Ferulic Acid.
Hyaluronic Acid draws moisture from the outside and locks into your skin. Vitamins C and B inhibit the transfer of pigment to the surface of the skin, which helps alleviate dark spots revealing lighter and brighter skin. Vitamins C, E and B3 reduce photo damage and scarring.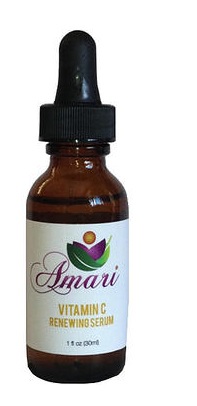 Discover new beautiful skin with comprehensive Antioxidant super serum that takes advantage of each of the unique antioxidant delivery methods and chemical interactions to combat oxidative stress, and provide additional hydration and skin lightening benefits.
In addition, it will help Improve collagen synthesis, which helps reduce the appearance of fine lines and wrinkles.
At just $34.99, it's definitely worth a try. 🙂