Gipsy Dharma is a manufacturer and retailer of beautiful, hand-crafted leather clothing and footwear. The clothing is unique, comfortable and will make you stand out from the crowd.
The owner is very passionate about delivering a high quality product to the customers.
Gipsy Dharma ladies ankle boots are absolutely fantastic. I've never seen anything like them before. They come in different colours depending on your mood and preference.
My favorite boots are definitely the pink leather ankle boots and the cobalt blue leather ankle boots.
Gipsy Dharma uses soft but durable leather to make their boots. This helps to ensure that the boots will last longer and at the same time be one of the most comfortable things that you can wear. Imagine footwear which both looks great and is comfortable.
You no longer have to sacrifice comfort for beauty.  The boots are fashionable and one of a kind, which makes Gipsy Dharma pieces precious.
The image below is only a sample of the types of ankle boots that Gipsy Dharma create and sell. I LOVE that colour 🙂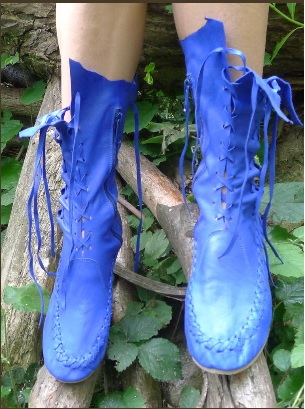 If you are looking to add some colour and creativity to your outfit, then look no further than Gipsy Dharma and their amazingly-designed ladies' ankle boots. Stop wasting your time and money on mass-produced footwear and start wearing Gipsy Dharma. 🙂
HAPPY SHOPPING!