Sirius  is a skincare company based in the Silicon Valley. They develop innovative technology in order to improve skincare, thus enhancing their customers' natural beauty. The Sirius team consists of experienced dermatologists and scientists. The collaborative efforts of these highly knowledgeable professionals allows them to develop high quality products to suit their customers' needs.
We, at AH Life & Style, are featuring two products: Sirius Infusonic and Sirius Pulsar.
The Sirius Infusonic is a sonic infusion device that enhances absorption of skincare products so that your skin gets the full benefit of application of creams, lotions, and moisturizers. It helps to deliver more nutrients to the skin and increase the performance of the products that you are applying to your skin. It helps the products penetrate deep into your skin and work their magic. You spend a lot of money on skincare products, lotions and creams, so why not get a device that allows you to reap their full benefit?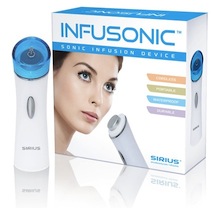 The Sirius Pulsar is another product that will improve the health, look and feel of your skin. It is an advanced acne spot treatment device that uses the healing powers of thermal energy and blue light to clear away or fade most blemishes within 24 hours. It's a quick and easy way to say goodbye to those nasty pimples and acne spots. Sirius Pulsar sends gentle, pain-free pulses of thermal energy and blue light deep inside the pore to treat acne at its source. Having clear skin will give you more confidence in yourself.