Galvanic units either individually or combined with other complementary treatment functions in a multi function machine. A galvanic current is a constant direct current which may be used in facial treatments as either desincrustation or iontophoresis.
In this post, I'm going to talk about one particular galvanic beauty machine from Australia that caught my eye.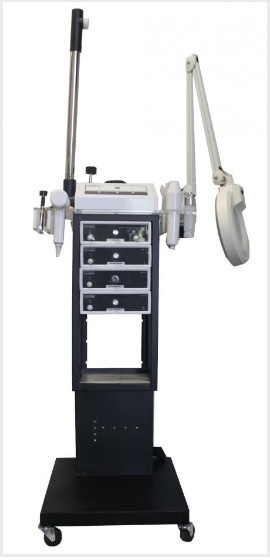 Configured with Brush, Galvanic, High Frequency & Vacuum together with standard functions of Mag Lamp, Steamer & Woods Lamp. This 7 function unit can be increased to a 14 function unit as you require. A Hot Towel cabinet designed to fit on the base is also available.
This is a salon quality machine and has a variety of different functions. Other function units that can be inserted into the 3 remaining empty slots are: Diamond Microdermabrasion, Ice Therapy, Microcurrent, Patter Massage, Photo Rejuvenation, Ultrasonic.
This is great for those who are looking for a multipurpose beauty machine. The price of this unit depends entirely on what kinds of functions you are looking to have included with it.