Facelift Surgery is one of the most popular facial plastic surgery procedures in Calgary for rejuvenating the overall appearance of the face.
Facelifts  help to reduce many of the signs of facial aging, such as loose skin, jowls (loose jawline), "turkey neck" and deep creases beside the mouth and on the cheeks.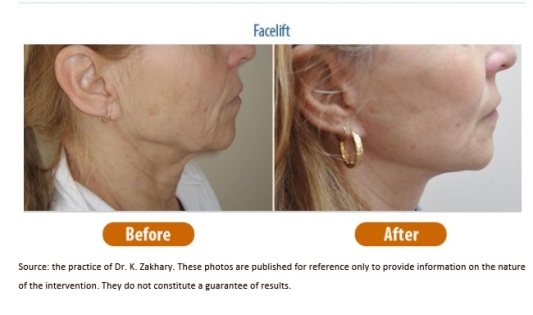 Dr. Kristina Zakhary is specialty trained in Facelift Surgery and uses her artistic skill to remove fat deposits and to tighten and reposition the facial tissues to restore to you a fresh, natural and youthful appearance. She is based in Calgary, Alberta.
Aging is not just a matter of loose or sagging skin. As we grow older, multiple changes combine and conspire to give us a "tired", "sad" or "old" appearance.
In addition to facelifts, it is recommended to undergo other procedures at the same time in order to achieve more natural-looking results. Therefore, in conjunction with a facelift, small procedures are performed on the lips, cheeks, chin, nose, eyes and eyebrows.
A facelift surgery improves the appearance of mainly the jawline and neck. It does not improve hooded eyelids or low eyebrows, although you can combine a facelift surgery with eyelid surgery (blepharoplasty) or forehead lift surgery.
Whenever you are undergoing cosmetic procedure, it's very important that you seek to achieve more natural-looking results. Don't be afraid to ask the doctor all the questions that you are wondering about.